All interim profits published by Wertpapier Mitteilungen (WM) are available at WMACCESS for query. For one single application of WMACCESS or infrequent queries we offer the affordable price model WMACCESS On-Demand, and also for regular or intensive query requirements we provide the appropriate price model.
Who uses WMACCESS for the query of tax relevant data like interim profits?
banks
fund companies
tax consultants
auditors
specialised lawyers for fiscal law
lawyers
financial service providers
private persons
What do WMACCESS clients use the queried interim profits for?
The applications of the queried interim profits are manifold:
verification of tax certificates and revenue records
verification / completion of foreign bank documents / tax reports
voluntary declaration in order to avoid punishment
determination of the assessment basis for the capital yield tax deduction in the event of return or alienation of investment certificates
tax declaration, annex KAP (income from capital) of the tax return form
calculation of tax parameters at umbrella fund level
(interim profit of target fund)
Where can interim profits be queried?
In this tutorial we will explain the query of interim profits step by step.
How are the queried interim profits presented?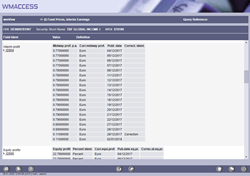 Click on the adjacent illustration. This screenshot shows how interim profits are presented in WMACCESS, ordered by currency and date of publication.
Can the query of interim profits be tested for free?
Yes, of course they can. Please apply for free test access.
Convinced?
Please download the contract and carry out a free express installation by email.